It has been said that the romance community is the most supportive and generous of all the genre communities and I have seen the evidence many times over in different situations.
Last week one of our beloved authors, Jackie Barbosa, lost her seventeen-year-old son in a car accident. Although most of us will never be able to understand the depth of her and her family's pain, Jackie's loss is also our loss and we grieve for her and with her.
Today, in support of Jackie and her family, I'd like to introduce you to some Jackie's books. One of the first stories of hers that I read was one of the Lords of Lancashire series, THE LESSON PLAN. I loved the way everything is blended seamlessly into the story: the emotions, the history and that wicked naughtiness that makes her heroes spark.
Read an excerpt |
Get buy links
The next one I read was BEHIND THE RED DOOR. This was much spicier than my usual fare, but the excellent storytelling kept me turning pages and rewarded me with three great novellas that I might have missed out on otherwise.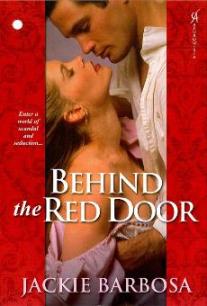 Read an excerpt |Get buy links

|
View trailer
Jackie also has two free historical short stories available — THE REIVER and NINE LADIES DANCING (part of the 12 Days of Christmas Anthology) — so you can get to know her wonderful writing with no obligation. Of course, I hope you fall in love as I have and explore her full catalog.
Read an excerpt
Get FREE ebook




Download free pdf



I had the treat of hearing Jackie read from SKIN IN THE GAME, one of her contemporaries, last fall at the San Diego Lady Jane's Salon. The wry humor, the sexual tension and the details that made this female football coach believable were all present proving she is at home in this genre as well and her writing strengths shine here as well.
You can find information about her and her many books on her website: http://www.jackiebarbosa.com/
My heart aches for this very talented author and amazing woman who is always so generous with her time and knowledge of publishing. And while buying a book and leaving a positive review if you enjoyed it may not seem like much, it can really lift an author's spirits and I hope you'll join me in sending some good thoughts and light in these dark times for Jackie and her family.
A memorial fund has been set up in her son's name. Details to donate can be found on The Season For Romance website. Any and all donation amounts are greatly appreciated.